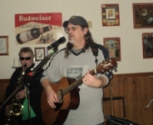 CD's and Merchandise:
* Life Looks Better in Neon
* 12 Stories Tall
* Just Plain Folk
* America's Least Wanted
* Let Me Be Frank
Music Videos:
* In Two
* Bad Choice
* Gone to Be a Star
* Brother Could You
Spare a Smile?
* I Made It This Far
* Like You
* Water in My Whisky

Contact
Frank Powell

Frank Powell is a singer-songwriter with over thirty years of experience in the music industry. He has performed as a solo guitarist and with various bands at venues ranging from neighborhood bars and coffeehouses to university concert halls. Audiences of all ages not only have a great time at his performances, they also find themselves challenged and inspired by his work - which contains underlying themes of social justice and political activism. His thought-provoking original songs have been recorded by numerous socially conscious artists. [More]


Frank is based in Central Illinois, and available for bookings throughout the Midwest. He is represented by Music Industry Networking. Booking inquiries can be directed to: ceo@musician.org.



UPCOMING PERFRORMANCES:

New Year's Eve (December 31) at 8pm
217 Roadhouse (Atlanta, IL)
Opening for the Rio Grand Band




Frank offers all-natural, organic performances with no auto-tuning or computer processing - what you hear is what you get. He writes and performs songs in a variety of musical genres, from folk and country to blues and rock, and the core of his philosophy is his belief that music has the power to make the world a better place. Frank is currently working on a new CD release (working title: "We All Fall Down").